The number of primary school pupils reaching the expected standard in reading, writing and maths has risen again, official figures show.
Across England, 64% of 11-year-olds who sat this year's Sats, or national curriculum tests, met Government targets in all three areas, up from 61% last year, according to the Department for Education (DfE).
While the number of schools considered to be under-performing has decreased, 364 mainstream primaries in England fell below the primary school floor standard.
According to Press Association analysis of the data, 91,620 pupils are being taught at the under-performing primaries.
This represents around 2.1% of children at mainstream primary schools in England.
Schools are considered to be under-performing if fewer than 65% of pupils reach the expected standard in reading, writing and maths, or if they fail to make sufficient progress in the three key areas.
The East and East Midlands had the highest percentage of schools below the floor standard, while London had the lowest at fewer than 1%, according to the Government data.
Norfolk had the biggest proportion of under-performing schools – 22 of the 231 mainstream primary schools in that local authority area.
A spokeswoman for the county council said: "Improvement at Key Stage 2 continues to be a challenge in the county but we are offering extra support to schools where it is needed to further improve performance."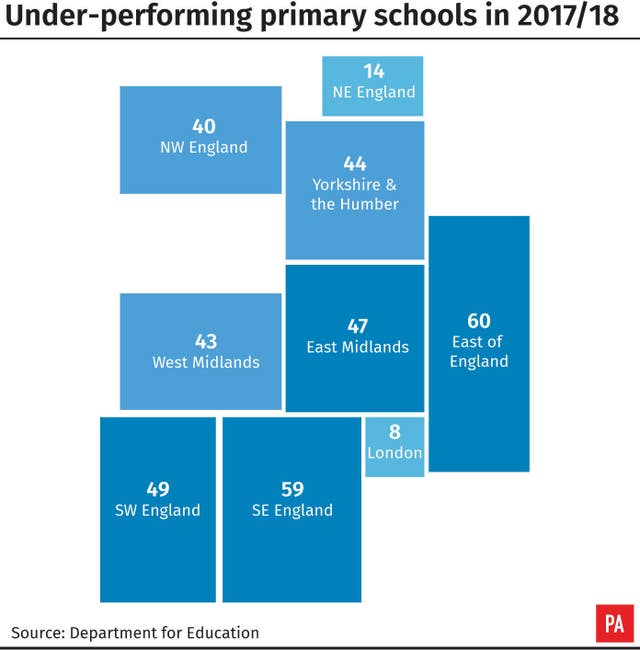 The next highest proportions of schools below the floor standard were in Bedford (two schools out of 23) and Portsmouth (three schools out of 32), both at around 9%.
A spokesman for Portsmouth City Council said: "Schools below the floor are receiving support, either through the local authority or through multi-academy trusts.
"There is more work to be done, but it's also important to point out that 87% of schools in Portsmouth are rated good or better. "
In Derbyshire, 14 of the local authority area's 220 mainstream primaries were under-performing.
A spokeswoman for the county council said: "We are aware of schools that are performing below the standard set by the Government and work with each of them to make sure that the support needed for improvement is identified and secured.
"We're pleased to see a significant reduction in the number of schools performing below the DfE standard in Derbyshire over the last three years from 23 in 2016 to 14 this year and, working with schools, we are committed to reducing that number yet further."
The number of "coasting" schools, a measure which looks at results over the past three years, has risen to 640, up from 524 last year and 477 in 2016.
Schools come under this definition if, based on revised data for all of the past three years, fewer than 85% of pupils achieved the expected standard at the end of primary school and they failed to make sufficient progress in reading, maths and writing.
This year's figure equates to one in 20 of all schools included in the coasting calculation.
Earlier this year, the DfE announced proposals aimed at ending confusion over how schools are measured.
The system of using the two standards, floor and coasting, to judge school performance will be replaced with a new single measure.
Figures also showed the gap between disadvantaged pupils, those in or formerly in care or eligible for free school meals, and their peers had continued to decrease, narrowing by 3% in the latest year and 13.2% since 2011, the department said.
School standards minister Nick Gibb said the statistics showed that standards were rising in schools.
He added: "Every child, regardless of their background, deserves a high quality education and opportunity to fulfil their potential."